Hospital-quality Care Meets Convenience and Affordability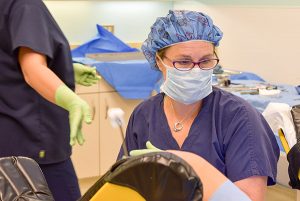 "The staff is wonderful. It's a very personalized setting for our patients." After finishing a full day of procedures in The Surgery Center at VPFW, Dr. Emily Stone, OB/GYN, summed up what sets our out-patient surgery experience apart. The ability to treat our surgery patients in our own surgery suite – with our own amazing staff – provides a personalized and efficient experience at a fraction of the cost of a hospital.
The Surgery Center at VPFW, located inside Virginia Physicians for Women's Koger Center office that opened near Johnston-Willis in the fall of 2021, combines the cutting-edge technology and equipment of a hospital operating room with the ease and individualized care of an outpatient surgical center. It's fully accredited by the Accreditation Association for Ambulatory Health Care, Inc. (AAAHC), which means it meets rigid standards of patient safety, just like a hospital. Yet processes are streamlined and overhead is low, so the time and cost savings are passed on to the patient.
The convenience and short wait times of an in-office surgery center are undeniable. Parking is not a concern at VPFW's Koger Center office, which is a stand-alone building with a large parking lot. The Surgery Center also has wheelchair service for patients being picked up after their surgery. With our efficient check-in and discharge process, patients can be in and out in just over 90 minutes for most procedures. They receive top quality care in half the time they'd expect at a hospital – and with far less of the financial burden.
Personalized Care: the VPFW Difference
But beyond convenience and affordability, having our own surgery suite allows us to offer our surgery patients what we call the VPFW difference: the attentive, one-on-one care patients have come to expect from all VPFW offices. Our physicians as well as the anesthesiologists we partner with are board certified or board eligible in their specialties. Our nursing staff has extensive training in gynecological procedures. But what's most important is the common goal they share: treating each patient with the highest standard of safety and care.
Ease and Comfort: the Patient Experience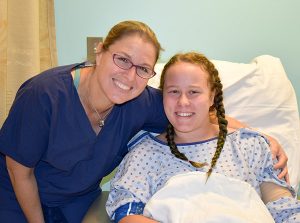 Kelly Ferrell, a recent surgery patient of Dr. Stone, felt the staff as well as Dr. Stone and the anesthesiologist went out of their way to prepare and inform her on her surgery process, from pre-operative guidance to post-operative care. "They provided detailed instructions and personal comfort towards any concerns or questions that I had before, during, and after my stay."
Upon arrival at The Surgery Center, patients meet our friendly check-in and nursing staff and relax in a cozy waiting area with a personal recliner and heated blanket. They enjoy individualized attention from nurses and a chance to ask their doctor any last-minute questions. Patients get the same treatment during recovery (usually about 30 minutes), right up until their nurse wheels them to the car to head home.
The Surgery Center at VPFW only treats 3 or 4 patients at a time, which allows for one-on-one attention from our staff. Nurse Gwen Brown loves how the environment allows the staff to be patient-focused. "We are able to bond and engage with our patients to put their minds at ease during one of their most vulnerable times." All the nurses are women, which can be comforting for patients undergoing a gynecologic procedure, and the care is tailored to each patient's needs. "The nursing staff was incredibly sensitive and discreet towards my personal situation," Kelly said. "They addressed all of my feelings and concerns, making me feel calm and prepared for my surgery."
A Familiar Team: Why our Physicians Prefer the Surgery Center at VPFW
Our private surgery suite provides a familiar environment where VPFW physicians are accustomed to working with the same team of anesthesiologists, nurses and techs to provide the best care possible for each patient. This small, consistent, and motivated team makes day-to-day operations flow smoothly, even on the busiest of days.
Dr. Stone shared why she personally loves performing surgeries in the intimate space. "We have a small setting where our surgery staff routinely works with our practice. They know our preferences and maximize efficiency, which translates to improved patient care and experience."
Nurse Brown says the staff feels the same way about working with the VPFW physicians: "All of the physicians at VPFW are friendly, personable and approachable, which makes for a great experience for both patients and staff. We love working at the Surgery Center."
What Types of Surgeries are Performed in the Surgery Center at VPFW?
Procedures performed in The Surgery Center treat several gynecologic and urogynecologic issues. All procedures are minimally invasive and do not require overnight stay. Most surgeries require sedation or general anesthesia, but some can be performed only using local anesthesia (numbing the area). Our physicians help patients decide which method is best for them.
Most Common Procedures We Perform in The Surgery Center:
Hysteroscopy for diagnosing abnormal bleeding problems
Laparoscopy for diagnosing pelvic pain, for tubal ligation, for biopsies for endometriosis, and for removal of cysts, ovaries, fallopian tubes, and adhesions
Endometrial Ablation for the control or cessation of abnormally heavy periods
Dilation and Curettage for diagnosis and/or treatment of abnormal bleeding or for miscarriage
Loop Electrosurgical Excision Procedure (LEEP) and Cold Knife Conization (CKC), procedures for removal and biopsy of abnormal tissue from the cervix
Anterior and/or Posterior repair for tightening the tissue surrounding the bladder.
Bladder sling insertion for symptoms of urinary incontinence
Botox bladder therapy for symptoms of urinary urgency and frequency
Hospital in the Vicinity
Patient safety is our top concern, and all our full-time Surgery Center nursing staff are certified in Advanced Cardiovascular Life Support. While it's rare that a Surgery Center patient would require hospital care, should the need arise for any reason, we can easily transfer them to a hospital nearby. Johnston-Willis Hospital is located just down the street from our building.
Scheduling Your Surgery
Some surgeries are more urgent than others, and we will work to get patients in as quickly as possible. For less urgent procedures, patients often choose to wait until it's most convenient for their schedules. Summertime is very popular, as is the end of the year when patients have met their deductibles and insurance coverage kicks in. We recommend calling at least two months in advance to schedule less urgent surgeries during the busy summer months or November/December timeframes. Give us a call at 804-897-2100 to schedule.
Having surgery is never fun, but at The Surgery Center at VPFW, our physicians and staff aim to make the experience as comforting, convenient and affordable as possible.
To schedule an appointment with a VPFW provider, you can call us at 804-897-2100 or set an appointment online.