VPFW's Midlothian Turnpike doctors' office, surgery center, and administrative offices now inhabit 1212 Koger Center Boulevard
If you've driven down Koger Center Boulevard lately, you may have noticed there's a new neighbor inhabiting the space between Costco, Lidl, and the Virginia Credit Union. At 8 am on Monday, October 25th, Virginia Physicians for Women (VPFW) cut the ribbon on its new 41,000-square-foot, two-story medical office building that houses its administrative headquarters, surgical center, and North Chesterfield physician clinic.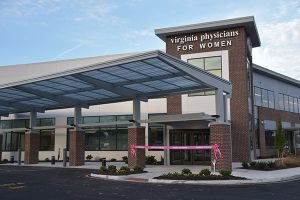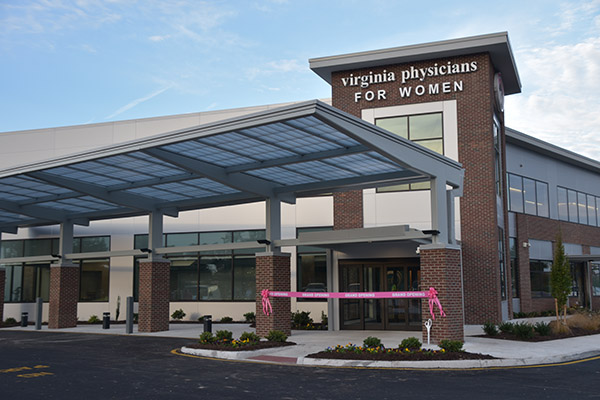 VPFW occupies the entire building, allowing the practice to improve patient experience and expand several existing services, including obstetrical and gynecological care, as well as mammography, ultrasound, and urogynecology. The building also houses a new surgery center where physicians will continue to provide over 40 different minimally invasive outpatient procedures in twice the space of its previous surgical suite.
Chris Rice, Executive Vice President and real estate consultant at NAI Dominion, shared that "the project management, design and construction team have worked hard to build and provide a facility where VPFW will continue to provide top-class medical care far into the future. Every detail of the project is set in place to optimize the patient experience." Rice adds, "Helping Virginia Physicians for Women grow their offices and real estate needs to serve the Richmond area has been a rewarding experience."
The construction of the new state-of-the-art headquarters is the last piece of VPFW's multi-phase expansion plan to improve facilities and accommodate its rapidly growing patient base. With five other offices throughout the Richmond metro area all having been newly built or renovated over the last seven years, the North Chesterfield flagship location was due for an upgraded facility.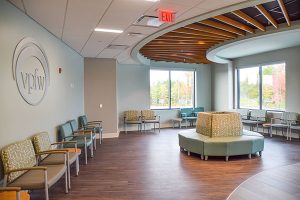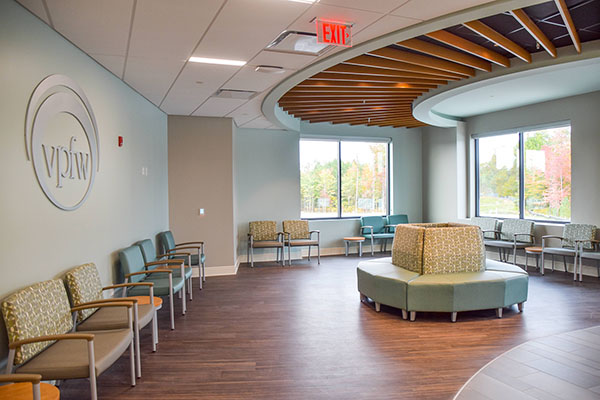 The longtime headquarters on Midlothian Turnpike had been seeing over 300 patients per day. Moving into the new Koger Center facility allows the practice to increase that volume by 20%. "The new facility is specially designed to effectively provide a growing number of OB/GYN patients with top-quality care in a timely and efficient manner," says CEO Ronnie Milligan. The patient-centered design, marked by beautiful sunlit waiting rooms around the perimeter, will also allow for more social distancing as the pandemic continues.
In its new space, the practice's headquarters will remain in close proximity to Johnston-Willis Hospital where its physicians deliver babies. Milligan notes that the attractive corner signage and visibility from both Koger Center Blvd and Mall Drive will make it easy for patients to find. "Having Costco, a Southside landmark, as our new neighbor won't hurt either," he adds.
The facility's new surgery center, used by all 31 physicians in the practice, has twice the capacity for outpatient surgery of VPFW's previous in-house surgical suite. "We'll be able to schedule GYN procedures five days a week, allowing more flexibility for current patients and giving more women in the region access to minimally invasive surgery in the most convenient and cost-effective setting," says Sarah Ransone, director of VPFW's surgery center. The surgery center has ample parking and easy check-in, as well as more private, comfortable, waiting and discharge areas for surgery patients.
It's fitting that the new office opens during Breast Cancer Awareness Month. It also doubles the headquarters' capacity for screening mammograms, capping a recent expansion of mammography services that VPFW began offering 10 years ago this October.
"Over the last decade, in partnership with Radiology Associates of Richmond, VPFW has made it a mission to help women in the region make their breast health just as much a priority as other areas of women's health by providing more convenient access to quality screening mammograms," says the practice's president, Dr. Mark Hyde. VPFW has made significant investments in developing on-site screening mammography services at four of its six offices, which makes it easier for patients to schedule their yearly scans, often in tandem with their visits for annual exams or other services at VPFW. With a total of six machines, VPFW will have the capability to do over 2,400 scans a month.
"The convenient, quality screenings we offer have helped to improve the health of our patients by preventing and detecting breast disease earlier, thus impacting their quality of life," says Dr. Hyde. VPFW recently reached the milestone of conducting its 100,000th scan.
The new facility also broadens VPFW's ability to conduct ultrasounds for obstetrics and gynecology patients, as well as provide more expansive non-invasive urogynecology services. Dr. Ramzi Aboujaoude, who started the Urogynecology Center at VPFW in 2013, now has a dedicated space for seeing patients, conveniently located next to the new surgery center where he'll perform minimally invasive procedures.
"At VPFW, we care deeply about our patients and their health," says Dr. Hyde. "Our new state-of-the-art facility demonstrates our dedication to sustaining a trusted partnership with the community, allowing us to better serve the health care needs of the women of Central Virginia."
To schedule an appointment with a VPFW provider, you can call us at 804-897-2100 or set an appointment online.