Dr. Jennie Draper discusses why girls should get moving, what to watch out for, and how to encourage physical activity in a healthy way.
Since running requires very little equipment, it's a method of physical fitness that's accessible to all girls. As an OB/GYN at VPFW and a runner myself, I was thrilled to learn that our practice was sponsoring the Girls on the Run 5K coming up on Dec. 11, 2022. GOTR is an after-school program at local elementary, middle and high schools that brings together young girls two days a week to run with each other, developing healthy habits, confidence, accountability, and much more. (They also work on how to deal with some of the difficult social situations that come along with being a young woman!) Whether through Girls on the Run, other after-school programs, or running buddies in the neighborhood, here are a few reasons to encourage the young women in your life to get moving as well as tips for doing so in a healthy way.
From Middle School Track to Climbing Mountains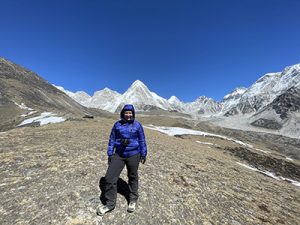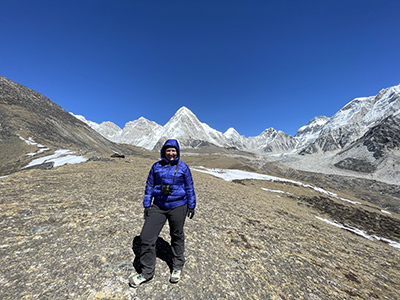 Running for me has been one of the most enjoyable and consistent hobbies throughout my life. I started in middle school on the track team and by senior year of high school was also on the cross country team. I was never the one winning races; however, the personal accomplishment of improvement and seeing how strong I could become as well as the confidence I gained from pushing past my own perceived limits has carried through adulthood.
For me, running wasn't just about the physical benefits. I also learned a lot about being on a team and then later developed leadership skills as captain of the team. I continue to participate in athletic endeavors in adulthood (marathons, triathlons and mountain climbing) not just for the physical benefits but also for the mental gains, including stress relief, social engagement and the thrill of meeting the next goal.
Physical Benefits of Running
First, let's dive into the physical benefits of running and exercise in general. Regular exercise can help anyone reduce their risks of heart disease and diabetes. It can also help a person maintain a healthy weight, which can help prevent a myriad of other health risks. Not to mention, people who exercise regularly have a better chance of maintaining their quality of life and cognitive abilities as they age. Running is considered a weight-bearing activity which helps build and maintain bone density. Osteoporosis prevention should begin in our younger years!
Women's Health Benefits for Active Girls
While some of these benefits may seem a little far in the future to motivate a teen or pre-teen girl, there are also some more immediate health benefits particular to young women. The physical discomforts that come with starting your period can make girls want to curl up on the couch or stay in bed. But physical activities like running and stretching can actually reduce the pain of menstrual cramps. Running also gets the blood flowing, and increased circulation helps minimize the bloating that often accompanies menstruation.
Mental Health Benefits of Group Activity
The benefits of running reach far beyond physical health. Exercise improves mood, increases energy and helps decrease stress. It also helps improve body image. This is a huge benefit considering up to 50% of young girls have a poor self-image by the time they're 13.
We can't underestimate what group activity can do for girls' mental health, confidence, and sense of commitment. While a lot of people consider running to be individual-focused – and it can be – there are so many opportunities to join a supportive running community, whether that be Girls on the Run, a track or cross country team, with mom and dad, or even neighborhood running buddies. When you run with others, you get the benefits of a team atmosphere too! Participating in a team environment has been shown to improve confidence and self-esteem for teen girls as well as a lower the rate of depression. These group activities can also turn peer pressure into a positive thing: making sure you show up!
Helping Your Teen Establish Healthy Habits
It is so important to help teens and pre-teens establish healthy habits while young. It's recommended that teenagers get one hour of exercise a day most days of the week. Focus your encouragement on regular exercise and finding joy in that activity rather than on a particular weight or look. The key is helping your teen find an activity that they love, whether that's running or another form of exercise, and then combining that activity with a supportive social environment. Without the supportive environment, the love likely won't last. With it, there's a good chance girls will continue to enjoy it and seek those mental and physical health benefits of exercise well into adulthood, like I have!
Tips for Young Female Runners
Part of establishing healthy habits is to help girls practice proper hygiene and learn how to be in tune with their bodies. You can also encourage them to feel comfortable talking to a doctor if something feels off. (That's what we're here for!) Here are a few women's health and exercise-related things I discussed in my blog post, 7 Things Every Female Athlete Should Know, that are particularly relevant to teens (and their parents!) as they become more active.
1. Proper hygiene can help prevent exercise-related vaginal problems including recurrent yeast infections.
It is important to shower regularly and wear breathable underwear like cotton or specially-designed moisture wicking material. As soon as an exercise session ends, girls should change out of their athletic wear to help prevent infection. If your teen notices any irritation, abnormal discharge, or pain, she should see a gynecologist.
2. Girls will need to stay hydrated when running on their periods.
Fluid replacement is especially important during this time of the month and can also help with cramps. (Eating a healthy diet and limiting sodium intake will also work wonders!)
3. Athletic performance can be affected by a teen's menstrual cycle, especially if cycles are heavy.
Your teen may not want to work out at all during a heavy period, but as mentioned earlier, physical activity can help relieve menstrual symptoms. Heavy periods can also contribute to iron-deficiency anemia, for which female athletes are at increased risk. There are safe medical options that can reduce blood flow, like an oral contraceptive pill, and other treatment options. If your teen is struggling with heavy periods, we encourage a visit to the gynecologist.
4. Period tracking can help teens know if they are having any exercise-related reproductive health issues.
If a teen has had regular periods and then they suddenly see the pattern become irregular or absent while increasing activity level, they should see a gynecologist.
5. Eating a healthy diet and taking in enough calories to sustain additional physical activity is very important for active young women.
A consequence of intense exercise and weight loss is something called the female athlete triad. This refers to being underweight, having irregular or missed cycles, and having low bone mass. Oftentimes this condition is worsened by a combination of increased activity and not eating regularly or enough. Teens should see a doctor to be treated in order to help prevent long-term health complications like infertility, osteoporosis, heart problems, or immune system problems.
As Your Teen Gets Moving, We're Here to Help!
Finding an encouraging way for girls to enjoy exercise has physical and mental health implications for the rest of their lives. A group like Girls on the Run achieves more than just learning to run and training for a 5K – it establishes friendship, self confidence, goal setting, healthy habits and commitment. (Check out our experience attending a practice this fall!)
It's my hope that young women can find physical activities they love as well as a supportive social environment in which to enjoy them, and that as they become more active, they listen to their bodies and seek guidance from a doctor if anything feels off. My colleagues and I can help with any issues and are more than happy to talk through the changes they are experiencing!
Learn more about Girls on the Run of Greater Richmond or sign up for their Fall 5K on Sunday, Dec. 11.
Learn more about adolescent gynecology at VPFW and when girls should start seeing a gynecologist and what to expect.
To schedule an appointment with a VPFW provider, you can call us at 804-897-2100 or set an appointment online.