VPFW patient Brittany Henderson shares her story of recurrent miscarriages, being told to "just keep trying," and how being her own advocate led her to a fertility solution
After our first daughter turned two, my husband and I decided we were ready to try for our second child. After a year of trying, we were so excited to finally see a positive pregnancy test! But right before our first ultrasound, I started miscarrying. We were completely heartbroken. My OB/GYN at the time explained how common miscarriage is to the point where it was described as "normal" and gave us reassurance everything would be okay.
Unfortunately, I had another miscarriage several months later. My prior OB/GYN again felt this was common, and I was dismissed with encouragement to just keep trying. I quickly realized how common miscarriage is, but I felt that what we were going through was far from "normal." I felt deep down that something was not right.
Getting a Second Opinion
I began researching new OB/GYNs for a second opinion and a fresh start. I knew I would need someone with experience given my current situation as well as my prior history of preeclampsia with our first delivery. I did a lot of research online and also had a lot of recommendations from friends. Dr. Jennie Draper's name came up several times, so I thought that must be a good sign!
I remember my first appointment with Dr. Draper so clearly. She came in and immediately sat down with me. Not once during that appointment did I feel rushed or dismissed. I had explained everything we were going through and she agreed immediately that we met criteria for a fertility workup. I was in my early 30s, and we had been trying for over one year without success. I had had two miscarriages by that point. I remember texting my husband as soon as I left the appointment and told him how relieved I was to just have someone actually listen to me and agree that something was off.
Moving Forward with Fertility Testing
Following my first appointment with Dr. Draper, she ordered special testing which included blood work and an ultrasound. Once the testing came back, she called me directly to discuss the results. The bloodwork was concerning, showing a diminished ovarian reserve as well as a possible clotting disorder that is linked to early pregnancy loss. With this data, Dr. Draper felt I would benefit from a referral to a fertility specialist for further workup. She referred me to Dr. Anish Shah at Shady Grove Fertility.
Unfortunately, I had two additional early losses during the fertility workup process. After meeting with Dr. Shah and undergoing additional tests, it was confirmed that my miscarriages were likely linked to the clotting disorder.
Finding a Solution
Dr. Shah met with my husband and me to discuss in detail various infertility treatments. We opted for the least invasive option (timed intercourse) with the combination of blood thinners. With this plan in place, we had success on the first try!
After a positive ultrasound confirmed a viable pregnancy, Dr. Shah released me back to Dr. Draper. Dr. Draper and Dr. Shah were in close communication regarding our fertility process and findings which made the transition back to Dr. Draper seamless.
Post-Conception Anxiety
Once I went back to Dr. Draper, my anxiety was at an all time high due to my prior losses. I felt any day would be the day I could miscarry again. Dr. Draper was extremely compassionate and listened to all my concerns. She performed several ultrasounds and exams and kept a close eye on me and our baby, especially within the first few months. She was also quick to respond to any questions or concerns I had outside my scheduled appointments.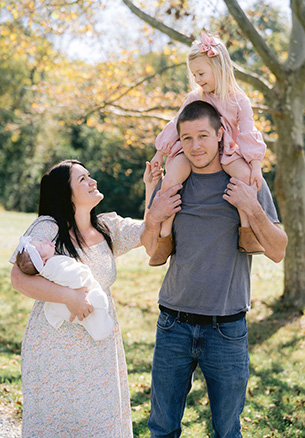 All thanks to the expertise of Dr. Draper and Dr. Shah, we successfully delivered another healthy baby girl in September 2022!
Being Your Own Fertility Advocate
I've been asked to share some advice for those experiencing recurrent pregnancy loss or infertility. This chapter of my life was such a dark time and it took so much courage to share and speak up. Initially, I felt so lonely, and some days I felt like I was even living two lives as my home and work duties had to continue on but on the other hand I was grieving so hard about the unknown. The more I have started to share my story, the more women I have found with similar situations, which has provided so much support and encouragement.
I encourage you to advocate for yourself and never be afraid to seek a second opinion. Always trust your intuition. It is important you are surrounded by a medical team you can trust and know they have your best interest at heart. If I had not trusted my instinct that something was not right, I am not sure how our story would have ended…or it may still be going on. In sharing my story, I hope to provide encouragement and hope to those suffering from infertility and miscarriage.
Dr. Draper and her team went above and beyond with quick and efficient communication as well as true compassion. We will forever be grateful for Dr. Draper and everything she has done to complete our family!
-By Brittany Henderson
VPFW patient
To schedule an appointment with a VPFW provider, you can call us at 804-897-2100 or set an appointment online.