Help us break the cycle of period poverty by donating tampons, pantyliners, pads, leggings, and underwear at any VPFW location through March 31.
For women and students who don't have access to period products, getting your period can mean huge setbacks in life: missing work, school, and other outings. This past year, 1 in 4 female students in the U.S. has missed school because they didn't have period supplies.
There is currently no federal aid program that can be used to purchase period products. Luckily, we have a wonderful local organization called Sylvia's Sisters, which distributes period products to communities in need. These include Communities in Schools of Richmond (CIS of Richmond), CIS of Chesterfield, and CIS of Petersburg, that help keep menstruating students in school and on track for graduation.
Learn how a lack of access to period supplies can affect physical and mental health, and how you can help by donating to VPFW's period supplies drive for Sylvia's Sisters through March 31.
Why Access to Period Products Matters
VPFW knows how important it is for teens to have access to the period supplies they need each and every month.
"Lack of access to affordable menstrual products (pads, tampons, menstrual cups, etc.) can negatively impact both physical and mental health," says Dr. Maggie Lincoln, OB/GYN at VPFW. Dr. Lincoln notes that reusing pads or having to resort to using toilet paper, rags, and/or paper towels can not only lead to acute vaginal, vulvar, and urinary infections, but it can also cause increased stress and anxiety. "That anxiety may evolve into (or at least contribute to) chronic mental health issues."
According to Sylvia's Sisters, aside from resulting health problems, the ramifications of period poverty include lower graduation rates, earlier marriage, and loss of income or job.
Dr. Lincoln's Focus Richmond Interview
Hear Dr. Lincoln's full interview with K95's Lori Kelly on Focus Richmond to learn more about menstrual health and hygiene, adolescent gynecology, and how you can help VPFW and Sylvia's Sisters fight period poverty.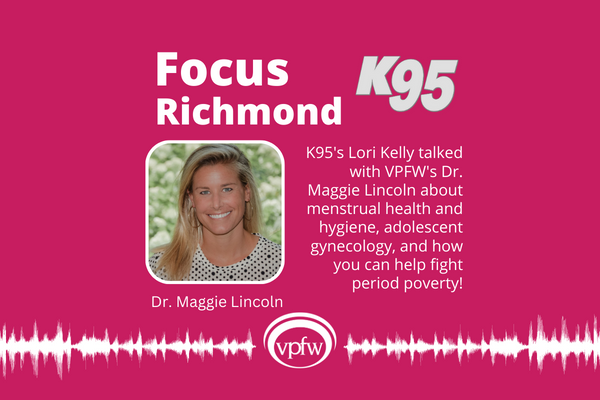 VPFW Period Supplies Drive
"Everyone deserves access to clean, affordable menstrual products!" says Dr. Lincoln. This spring, VPFW is working with Sylvia's Sisters to help break the cycle of period poverty with our period supplies drive.
VPFW is collecting period supplies at each of our locations through March 31, 2023.  The drive will help Sylvia's Sisters provide period supplies to local teens in low-income areas as well as women in rural Uganda, to help prevent them from having to miss work or school due to a lack of access to quality period products.
How to Donate
Drop off supplies at the front desk of any VPFW office or donate online at sylviassisters.org.
What to Donate
Tampons and panty liners are currently the greatest need for Sylvia's Sisters. However, they have assured us that any and all period products are helpful and will be sent to menstruators in need. Open packages are fine, but all supplies should be individually wrapped.
Tampons (any size/absorbency)*
Liners (individually wrapped only)*
Thin Maxi Pads
Regular Maxi Pads
Long Maxi Pads
Nighttime Maxi Pads
Leggings (Youth XS-XL and Adult XS-XL)
Underwear (Youth XS-XL and Adult XS-XL)
*Greatest need
About Sylvia's Sisters
Sylvia's Sisters' mission is to provide quality period products to menstruators, both locally and abroad, so they can thrive at home, school, and work without the added stress of healthfully managing their menstrual cycle every month.
Your donations help Sylvia's Sisters put quality period products into the hands of those who need them in the Richmond region as well as rural Uganda, ensuring that no one has to miss a day of school or work because of a lack of period supplies.
Learn more about Sylvia's Sisters or donate online.