I was fortunate enough to participate in the 2018 Aloha Medical Mission to Silay City on the Island of Negros Occidental in the Philippines. My brother in law, Dr. Christopher Klem, a head and neck oncologic surgeon in Honolulu, Hawaii is the head of the mission and asked me to join him and the team for what turned out to be a transformative experience. The team, comprised of support staff, nurses, dentists, anesthesiologists, and surgeons came from Connecticut, Virginia, Arizona, Nevada, California, Hawaii and some locals from the Philippines.
Although exhausting (The Philippines lie approximately 8600 miles Southwest of Richmond, and 12 hrs ahead), the 28 hr trip was exhilarating. The people are in general, kind and gracious and seem to always be smiling. The cities are crowded, hectic and constantly moving. The always present and colorful "jeepneys" and "trikes" or motorcycle scooters with sidecars are the preferred method of mass transit. Neither seems to have a limit on the number of people allowed to ride!
Health Care in the Philippines
Although the Philippines has a national health service, it only covers a tiny fraction of the cost of any surgery or hospitalization, and therefore most people cannot afford care and often delay until conditions have become severe/extreme. Local Filipino doctors had prescreened over 200 potential surgical patients for several months in advance of our arrival. Many patients traveled over two days to reach the hospital and therefore waited on cots in the (very hot) corridors of the hospital awaiting their screening and possible surgeries. The climate is hot and humid and the hospital has no air-conditioning except for a window unit in each OR (which was a total blessing). Postoperative patients recovered in open wards with 10-15 patients per ward. They provided their own linens and meals.
Below is a snapshot of the 'day in the life' while we were there. After spending an entire Sunday unpacking scores of boxes with supplies, meds, instruments, stocking rooms, sterilizing instruments, checking equipment, and screening the first day's patients we were ready for an early dinner and off to bed to rest.
Schedule for the week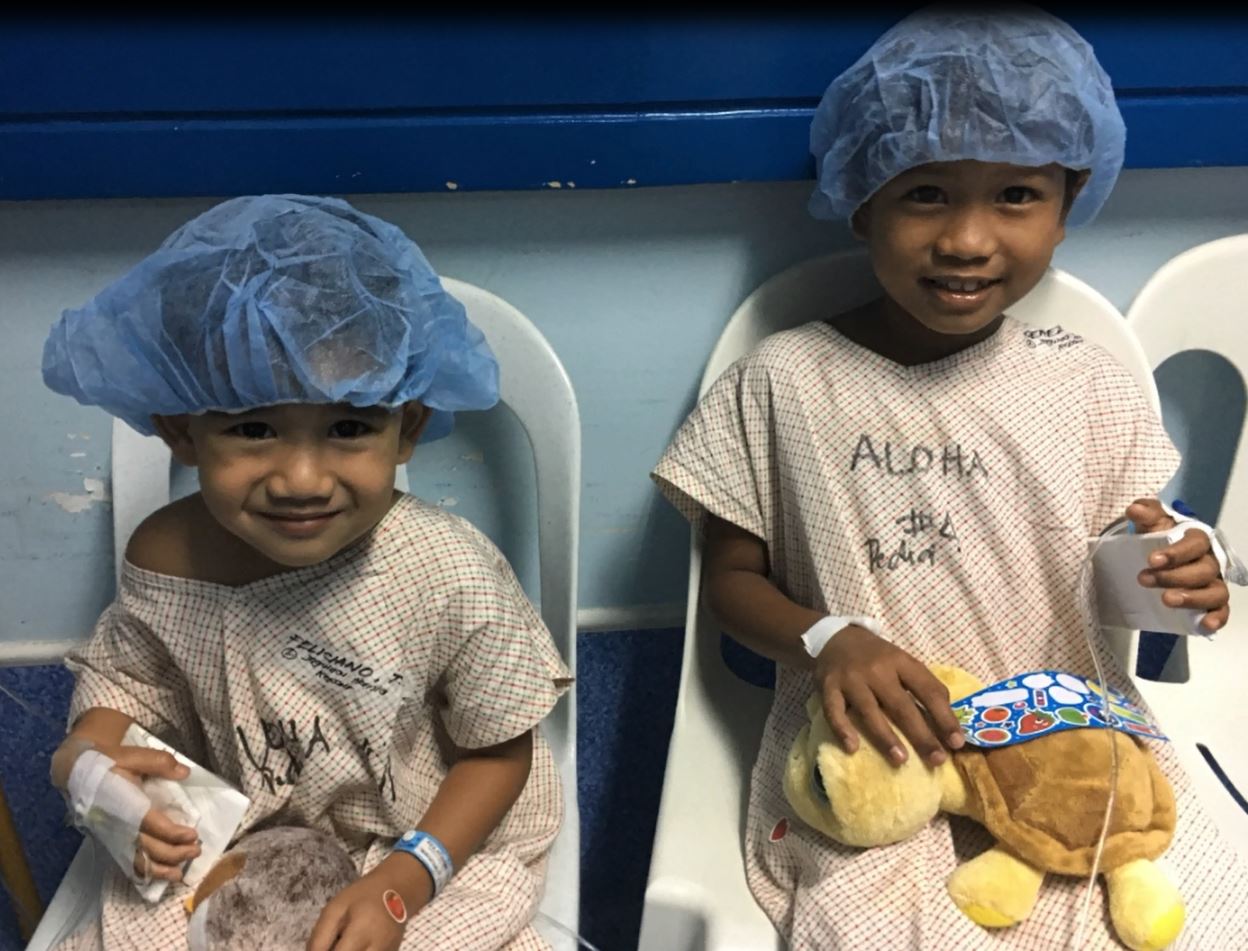 0515 – wake up call for 0545 meeting and breakfast
0630 – board a series of minivans from our hotel in Bacolod to Silay City (approximately  45 min drive)
0730– rounds, preop clearance for day's patients
0800 – first cases start, 3 operating rooms with 2 OR tables per room for a total of 6  surgeries running at a time. Patients for the following day were screened in a  makeshift clinic in the hospital between surgeries throughout the day.
1700– last cases usually finished. Instruments cleaned and prepped for sterilization for next day's
surgeries. Back onto minivans and 1 hr drive back "home"
1900 – dinner in a variety of local restaurants usually within walking distance of the hotel
2100 – early bed
0515 – repeat
In five surgical days, the team performed 100 surgeries and over 1100 dental procedures, seeing a total of nearly 1500 patients. We were truly blessed in that we had a very safe mission without complications, which is truly remarkable. We were both exhausted and energized by the end of the week. My goal was to make a difference for those in a very underserved area of the world and to be reminded of why I chose this as my profession. As they say, "mission accomplished"!
To schedule an appointment with a VPFW provider, you can call us at 804-897-2100 or set an appointment online.