The Renewal Center At VPFW
SkinMedica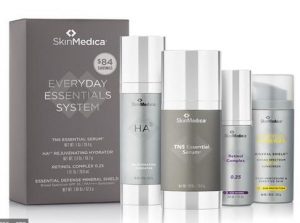 The Renewal Center at VPFW is permanently closing at the end of this summer.
We will be offering SkinMedica at a discount while supplies last. Call Kelly, our Renewal Center Coordinator, at 804-897-2100 ext. 1188 if you'd like to make an order for onsite pickup. For online orders and delivery, our VPFW SkinMedica Store will remain available for ordering through the summer.
SkinMedica
The Renewal Center at VPFW team is proud to offer SkinMedica, a dermatologist-developed skin care line to  help you achieve more youthful, healthier skin. The innovative SkinMedica skin care system uses science and clinically-tested ingredients to rejuvenate your skin and address an array of concerns, such as:
Fine lines and wrinkles
Other signs of aging
Sun damage
Acne
Dry skin
Uneven tone
Large pores
Rough texture
Whether used alone or as a complement to other treatments such as Botox or CoolSculpting, we feel confident that you'll love your lasting results.
Shop SkinMedica products at 10% off
We would love to speak with you about your concerns and goals and work together to develop a skin care regimen that's customized just for you. Of course, if you already know exactly what you want, that's great, too! We always offer products to you at 10% off suggested retail price.
Call Kelly Buttner at 804-827-8871 ext. 1188 to make an order for onsite pickup.
Order discounted products directly from our online SkinMedica store.