The Renewal Center At VPFW
CoolSculpting
The Renewal Center at VPFW is permanently closing at the end of the summer.
We are no longer accepting new CoolSculpting patients.
What is CoolSculpting?
The Renewal Center at VPFW offers CoolSculpting—a method of freezing and eliminating fat cells—in a safe, medical environment with no surgery or downtime.
CoolSculpting is the only FDA-cleared procedure to use controlled cooling to safely target and eliminate fat that is resistant to diet and exercise. This permanent fat reduction treatment eliminates stubborn fat safely and effectively without surgery or downtime. CoolSculpting results are proven and noticeable – you'll look and feel great with lasting effects.
We also guarantee you'll receive the best pricing in Richmond. With free assessments and consultations, our CoolSculpting experts will help you determine a treatment plan to meet your body sculpting goals and budget.
How does CoolSculpting work?
This procedure is all about science. Fat cells freeze at higher temperatures than surrounding tissues. CoolSculpting technology safely delivers precisely controlled cooling that gently and effectively targets the fat cells underneath the skin. The cold temperature crystallizes fat cells so they die. Over time, your body naturally processes the dead fat cells and permanently eliminates them, leaving a more sculpted you.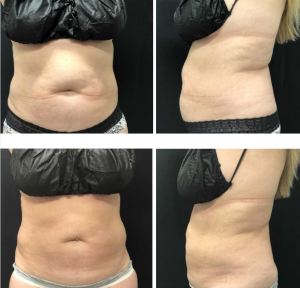 Who should get CoolSculpting and what areas are treatable?
CoolSculpting is for women and men who have areas of stubborn fat that they want to eliminate. The ideal CoolSculpting candidate is within 30 lbs of their goal weight. We offer free assessments so that we can work with you to decide which areas to target and better predict what type of results you may see. We treat the abdomen, flanks, under the chin (we also offer Kybella for optimal results), arms, inner and outer thighs, bra line, and more.
Is CoolSculpting safe?
Many of our patients ask us if CoolSculpting is safe. Since our core business is focused on health care, this topic is especially important to us. Our physicians have vetted and approved all of the services we offer at The Renewal Center at VPFW, so you rest assured that your safety is as important to us as helping you achieve optimal results. During your consultation and before your treatment, we will discuss any risks and safety concerns with you.