Services
The Renewal Center at VPFW
Prince George Pop-Up, Nov. 19
Our Renewal Center Coordinator Kelly Buttner is making her way to our Prince George Office on Tuesday, Nov. 19! She'll be offering chemical peels and free CoolSculpting assessments on-site as well as specials on SkinMedica products and discounts on your next treatment.
Call Kelly at 804-897-2100 ext. 1188 to book your appointment between 9am and 5pm on Tues., Nov. 19.
VPFW Prince George Office
1775 Lake Harley Drive
Prince George, VA 23875
Why a MedSpa?
You may be asking "Why is my OB/GYN offering medical spa procedures?" Good question! As technology improves and procedures become less invasive, more women (and men!) are interested in utilizing these affordable options to improve their areas of concern. Knowing that people would be getting these treatments, we wanted to make sure they had a trusted provider they could turn to–a place less interested in their wallets and more interested in ensuring their safety and health while providing optimal results.
We're proud to offer a variety of different medical spa procedures and products at The Renewal Center at VPFW. When you come in for a treatment here, you can expect the same incredible patient care and attention that you always receive at VPFW. You can also expect to get the best prices in town.
The Renewal Center at VPFW is conveniently located in our Short Pump office.
Testimonials
"From start to finish VPFW Renewal Spa was amazing, making me feel at ease and very accommodating with scheduling appointments! Jessica was fantastic with my Botox and Juvederm! She answered all my questions and  made me feel extremely comfortable. She listened to all my concerns and during the process she actually let me hold the mirror and give my opinion! (Very much appreciated!) My lips are better than ever and I've gotten so many compliments! Some ask "what's different?", while my close friends and family want all the details on who and where I went! Thanks again and I'll see you guys soon!"
"Kelly Buttner is AWESOME! She is knowledgeable, thorough, helpful, compassionate, and empathetic. She is a real superstar!!!"
Patient's results after receiving lip fillers  – Juvederm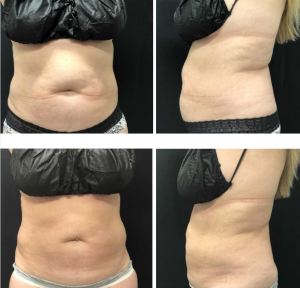 Patient's results after ONE Coolsculpting treatment on targeted areas.
Services Available at The Renewal Center at VPFW