October is Breast Cancer Awareness Month, and Virginia Physicians for Women has several initiatives to increase awareness and early detection and support research and resources for victims of this all-too-common disease.
One in 8 women will develop breast cancer in their lifetime. It's the second leading cause of death among women.  However, if caught early, the 5-year breast cancer survival rate is almost 100%. That's why building awareness is so important to us – it actually makes a difference.
Mammograms save lives
VPFW recommends annual mammograms for average-risk women starting at age 40 to check for abnormalities. It only takes about 10 minutes, and it could save your life. We offer 2D and 3D mammograms. 3D mammograms provide images of the breast from multiple angles, resulting in more accurate detection in women with dense breast tissue that can mask cancer. Call us today at 804-897-2100 to schedule your mammogram at our Midlothian Turnpike, West Creek or Prince George offices. Every patient who gets a mammogram during the month of October will receive a pink #MammogramsSaveLives bracelet to encourage other women to get their mammograms.
Free mammograms for the uninsured
If you don't have insurance coverage, we urge you to call us to schedule a free mammogram during the month of October. VPFW is partnering with Radiology Associates of Richmond to provide one free mammogram per day throughout Breast Cancer Awareness Month for women who are uninsured. 2D and 3D mammograms are both covered.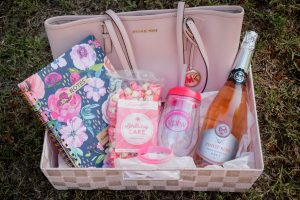 Pink Purse Raffle to benefit Virginia Breast Cancer Foundation
Throughout October, VPFW is raffling off 3 pink Michael Kors purses in gift baskets to benefit Virginia Breast Cancer Foundation.  You can purchase a raffle ticket at the VPFW front desk ($5 for 1 ticket, $10 for 3 tickets), or if you are a mammogram patient, you can post a photo of your pink #MammogramsSaveLives bracelet and tag @vpfw on Instagram or @Virginia Physicians for Women on Facebook for 10 raffle tickets. (Posts must be public for VPFW to see the tags and enter you into the raffle!)  Winners will be notified on November 1st.
Makings Strides Against Breast Cancer of Richmond 5K Oct. 20th
Virginia Physicians for Women is thrilled to sponsor a water station at the American Cancer Society's Making Strides Against Breast Cancer 5K on Sunday, Oct. 20th.  Come help the American Cancer Society fund groundbreaking breast cancer research and provide patient services like free rides to chemo, free places to stay near treatment, and a live 24/7 cancer helpline. We'll be in our pink tent giving out water along the route and would love to see our patients out there supporting such a great cause!
To schedule an appointment with a VPFW provider, you can call us at 804-897-2100 or set an appointment online.